We have taken advantage of the Scan4Safety GLN roll out to add wayfinding capability to the HealthPRM™ hospital patient experience app. With this new feature, HealthPRM™ is a fully featured NHS hospital wayfinding app.
By simply scanning the barcodes now affixed to every single room on your NHS site from within the app, the hospital wayfinding app will display a 'you are here' indicator overlaid on the built-in hospital map.
It's very simple to use. Scan and watch the map pan/zoom and display where you are. Walk a bit, then scan again and the map will update to your new location. We can also show a text description of the location on top of the map to make it even more clear where you are.
In summary HealthPRM™ has been extended with wayfinding capability, so a complete list of features includes:
NHS hospital wayfinding app with Scan4Safety scan and site map.
List of departments, services and contact numbers.
Hospital information.
Hospital news.
NHS Friends and Family Test.
Online results dashboard (with Excel FFT results download).
The app comes with its own custom admin dashboard. This includes bespoke surveys such as patient's friends and family test. With the addition of the Scan4Safety barcode reading, this functionality can now be extended to full room by room GLN based asset tracking, or any other applications that can utilise a fully networked database connected terminal with scanner.
Contact us on info@winchesterinnovation.co.uk, call 01962 920 128 or via our contact form.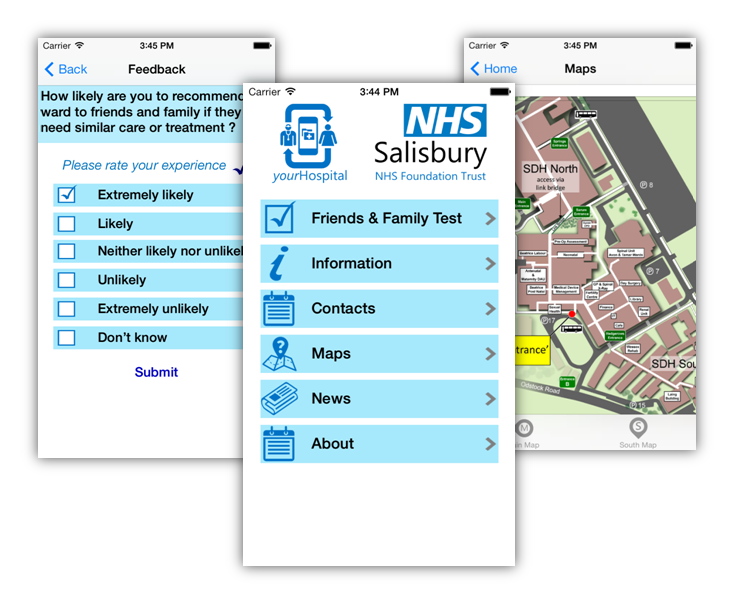 "It's essential that we use every opportunity to gauge people's views of the hospital and the national Friends and Family test complements our existing 'real time' feedback initiative where patients are regularly asked for their views. The Friends and Family test gives us an additional opportunity to ensure we are truly focused on the experience of our patients."
Fiona Hyett, Deputy Director of Nursing