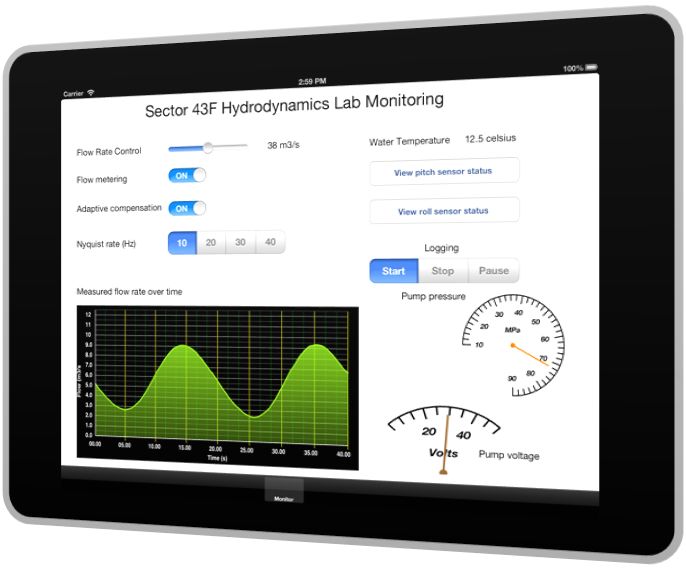 Smartphone / Tablet based Industrial Controls and Displays
A typical industrial process requires many display points placed around the plant. Expensive bespoke displays have been used in the past. Today's abundant, powerful and cheap smartphone and tablet devices make a reliable and flexible alternative.
Contact us, we will listen to your situation and suggest a possible solution for you. Call us on +44 (0)1962 920 128 or email us at info@winchesterinnovation.co.uk.
iOS, Android, OSX, Windows – we have created solutions for all many platforms. Sometimes for a variety of platforms simultaneously.The most common two functions are :
Monitoring & data display
Control
Real time, or store-and-forward data can be monitored. Charts, gauges and other data visualizationcan enhance operator experience. One to many, many to one are options for tablet / control device relationships. You can see a typical user interface with our data visualisation demonstration here, or scroll to the base of this page.
The touch based user interface is ideal for control applications, allowing continuous improvement for optimum process flexibility and efficiency. Many operators will be familiar with the platforms from consumer use reducing the need for operator training.
WiFi and Bluetooth are the most common connectivity options. The newer iOS devices (iPhone 4S, iPad3, iPod Touch 5th gen) support Bluetooth 4.0 which has many useful new features. Other options include 4G, 3G, GPRS and even SMS. If your system does not yet support any of these connectivity options, we can provide help through our partners.
Our Agile approach allows incremental (and therefore flexible) deliverables, making the process of utilising smartphones and tablets straightforward.
The steps are:
Study feasibility and capture requirements
Mock up skeletons of the controls & screens for review
Fast iteration of beta releases for further review and enhancement of the specification
Delivery
Continuous improvement as required
Off the shelf, tailored or bespoke are all options. Contact info@winchesterinnovation.co.uk or 01962 920 128.